BONE & BAMBOO - stunning flowers
Ref #480
Tiles:
152
Tile split:
50/50
Flowers:
8
Blanks/jokers:
8
Other BONE & BAMBOO games for sale

--

Click thumbnails to enlarge and start slideshow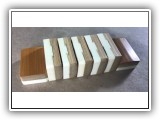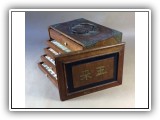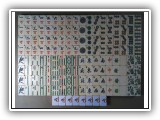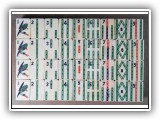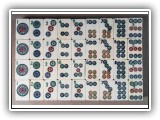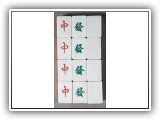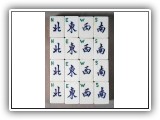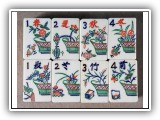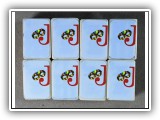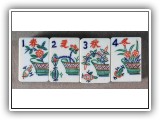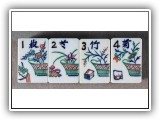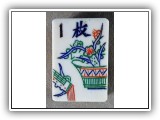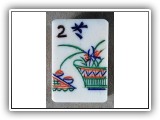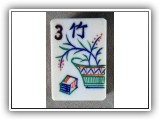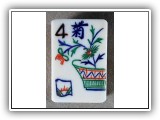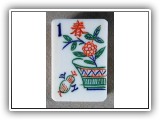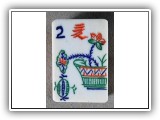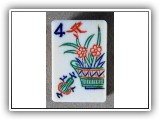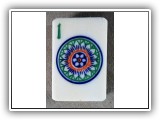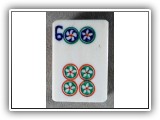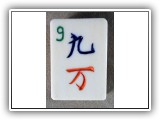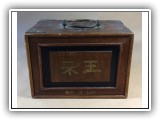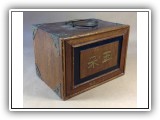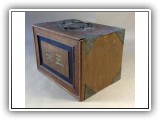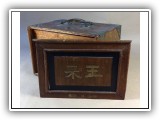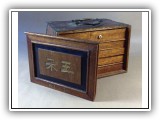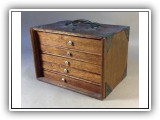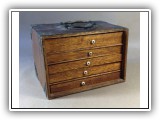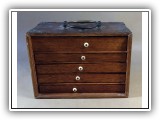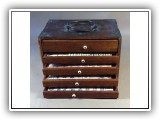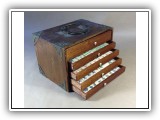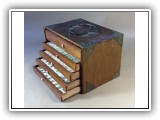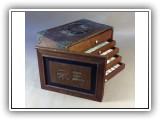 visual lightbox com by VisualLightBox.com v6.0m
Description:
I am adopted and now have a lovely new home!
I am so pleased to offer this lovely vintage 50/50 split bone & bamboo game housed in its original vintage wooden case.
I like games with 50/50 split tiles - they feel and look nice at my Mahj evenings and they seem to slide nicely on the table too. This game features the diving crane one bamboo.
I particularly like the flower tiles in this game as they are lovely examples of the coveted "half" plant pot style. But this set has a lovely twist - all the pots are very detailed and matching! There are of course two sequenced flower bouquets each numbered 1-4. And check out the fruit and vegetables laid out on the bottom left of each flower pot.
I also think the circles are rather stylish. The one circle is very very detailed with concentric circles within circles but to me it is actually the two circle that is stunning.
And take a look at the honor tiles (winds) they too are clear and very readable. The dragon tiles are traditional Chinese characters (red and green) and the white dragon is totally blank.
The game is housed in its original wooden box. There are wear and tear marks on the outside of the box but they are truly appropriate for the era of the game - the mid 1940's. And take a look at the lovely original drawer pulls made out of bone - they are in a staggered position on each tray. The two top handles are firmly attached and the door slides well.
There are a total of 152 tiles with a bone to bamboo ratio "50/50" - 50% bone and 50% bamboo. 152 tiles means this game has all its original 144 tiles plus 8 matching tiles that have been added and stickered for use as jokers. Because of the added tiles this game can be played with using National Mah Jong League (NMJL) or traditional Chinese rules - the best of both worlds!
All in all this is a very nice vintage game with tiles in great condition and with gorgeous and detailed flowers.
This would be a lovely game to show off on Mahj nights - adopt me ...
Let me know if I can help with any more information.