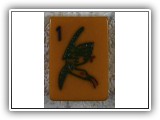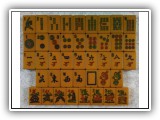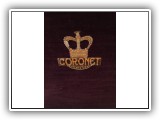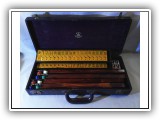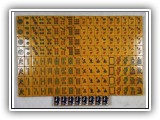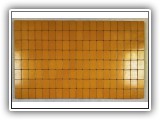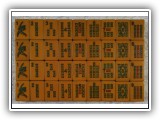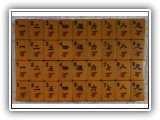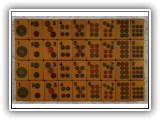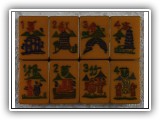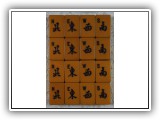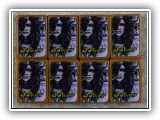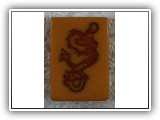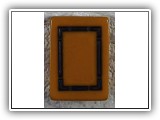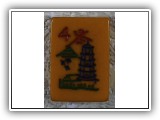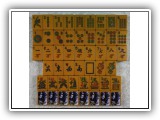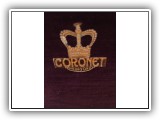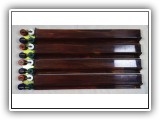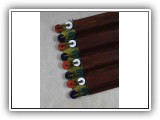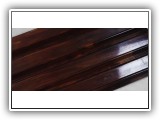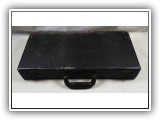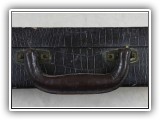 visual lightbox com by VisualLightBox.com v6.0m
Description:
I have been adopted and now have a new home.
This style of game is one of my favourites. Coronet only ever made one style of game. Note the unique styles of dragons and one bamboo - no other manufacturer used this design. The tiles are a gorgeous deep butterscotch and are great to play with. The tiles are actually such a deep butterscotch that I found it hard to photograph well enought to truly show off their design. The tiles look even nicer in person.
The original game came with 144 tiles. Eight extra tiles were added from another partial Coronet game to make this game fully playable using NMJL rules. The extra tiles have been stickered with some of our custom joker stickers using a design we felt suited this particular game. Note: Coronet did not make natural joker tiles.
This particular game is a beauty. What I particularly like is how beautifully dark the butterscotch tiles are - they remind me of a dark toffee colour. I don't know what it is about this manufacturer's tiles but they handle really beautifully when played with.
The case is in great condition with just a few exterior scuffs. It even has its original leather handle that is still in great condition showing almost no wear. The game is in its original Coronet case with deep burgundy felt lining and a fully intact manufacturer's label.
Coronet games usually come with swirled burgundy Bakelite racks and this game is no exception - the swirling is particularly nice. Plenty of tokens are included.
All you need to do is open the case and start playing !