BONE & BAMBOO - neat flowers
Ref #467
Tiles:
152
Tile split:
50/50
Flowers:
8
Blanks/jokers:
8
Other BONE & BAMBOO games for sale

--

Click thumbnails to enlarge and start slideshow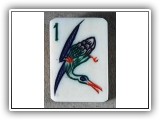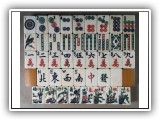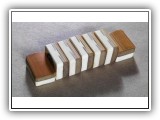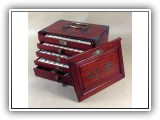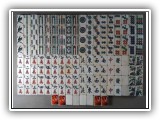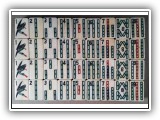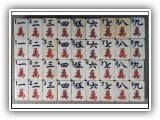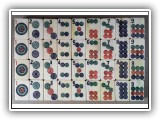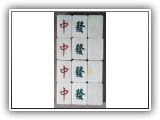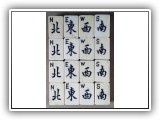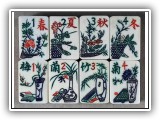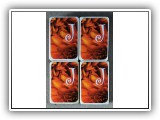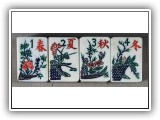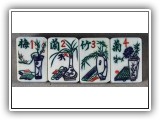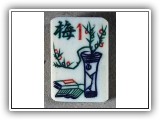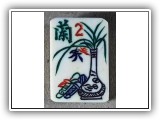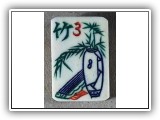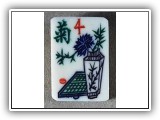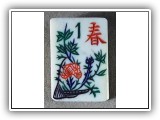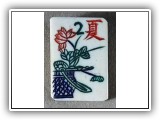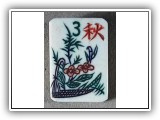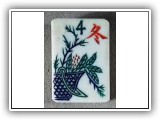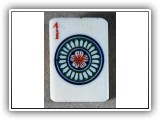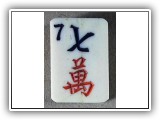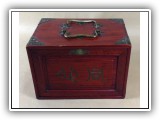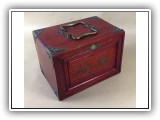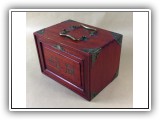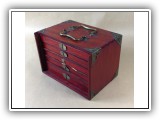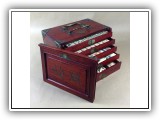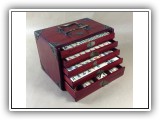 visual lightbox com by VisualLightBox.com v6.0m
Description:

I am adopted and now have a lovely new home!
This delightful thick boned, beautifully carved bone & bamboo game is presented for adoption.
This game has really nice tiles that seem to feel quite special to play with. Perhaps it's the balanced weight of the 50/50 split tiles combined with the crisp carving of this 1950's game.
This game has beautifully carved tiles - this makes them really easy to read even during perhaps less brightly lit Mahj nights.
I particularly like the flower tiles in this game. They are detailed, floral and nicely painted - quite classy looking. You can definitely see the enhanced technology used in the 50's - the more intricate carving, including the "complex" style character tiles and the full flower details. Even the honor tiles (winds) are really readable. The dragon tiles are traditional Chinese characters (red and green) and the white dragon is totally blank.
The game is housed in its original Rosewood box. The box is strong and sturdy and has all its decorative brass corner trim. Both top handles are well attached and all but one of the drawer pulls is complete. I do notice there is a small piece missing from a drawer dividing shelf - it is cosmetic and behind the front sliding door and I assure you it does not affect the drawer sliding into place.
There are a total of 152 tiles with a bone to bamboo ratio "50/50" - 50% bone and 50% bamboo. 152 tiles means this game has all its original 148 tiles plus 4 matching tiles that have been added and stickered for use as jokers. Because of the added tiles this game can be played with using National Mah Jong League (NMJL) or traditional Chinese rules - the best of both worlds!
This is a lovely quality game with all elements coming together to make this a classic, classy & pleasing game to play with and own.
Let me know if I can help with any more information.