CARDINAL - caramel/applejuice shade
Price US$795.00
Ref #401
Tiles:
152
Racks:
4
Flowers:
8
Blanks/jokers:
8
Other CARDINAL games for sale

--

Click thumbnails to enlarge and start slideshow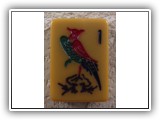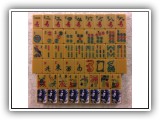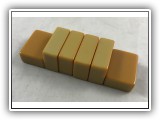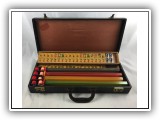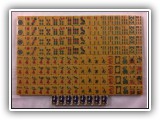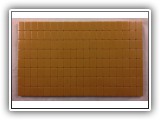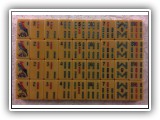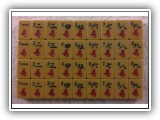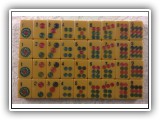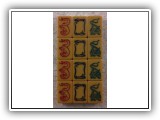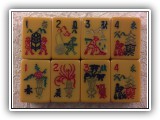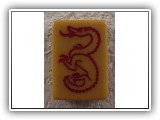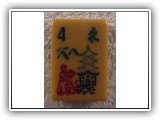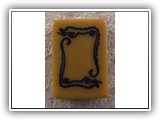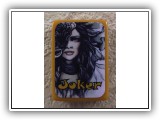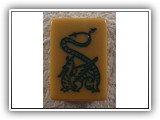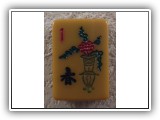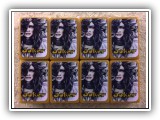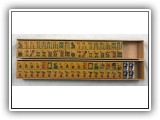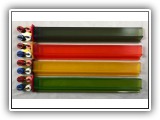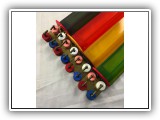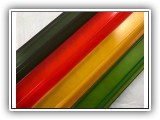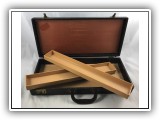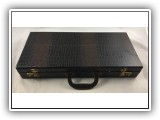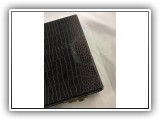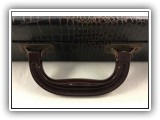 visual lightbox com by VisualLightBox.com v6.0m
Description:
Offered for adoption is a simply beautiful late-40's Cardinal game in a really unusual applejuice/caramel shade and featuring translucent racks.
This is a lovely little game by Cardinal Products Co of New York. It was manufactured in the late 1940's.
The game has 152 tiles and includes 8 natural flowers - 2 sets of bouquets each numbered 1-4 and 8 tiles added from another Cardinal game that have been stickered for use as jokers. With its compliment of 152 tiles it is immediately ready to play using either NMJL (National Mah Jong League) rules or Chinese Rules.
There are 4 beautiful translucent Catalin racks. They are in candy apple red, deep forest green, lemon/butterscotch and minty mid-green. Each rack has a different colored Bakelite E. And all the flippies are fully working.
The game comes in a beautifully fabric lined vintage case. The handle is vintage Bakelite and is strong and secure. The case has a particularly clean interior and is in great shape. Check out the interior tile trays - unbroken, clean and strong. The only damage I can see is there is a circular mark on the outside of the case. The mark does not affect the integrity of the case in any way.
The tiles have aged to a lovely deeper caramel color that compliments the applejuice tone of the tiles. The caramel is even on both the fronts and backs of the tiles - the sides of the tile are a lighter shade and look lovely in contrast to the rest of the tile.
I have tried to show off the color of the tiles in my photos - this is one of those games that looks even more stunning in person.
No matter the style of game you play (Chinese or NMJL) this game is ready for play right out of the box !
If I can help with any further information please just let me know.