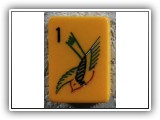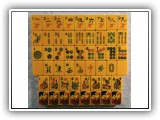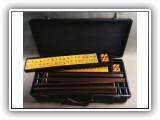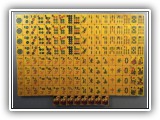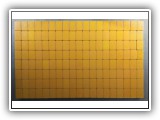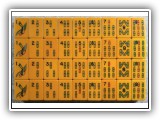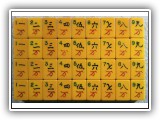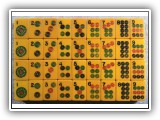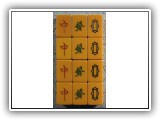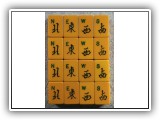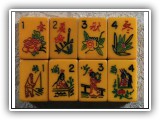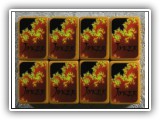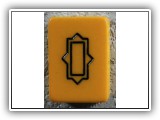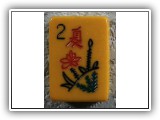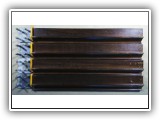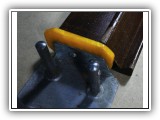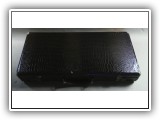 visual lightbox com by VisualLightBox.com v6.0m
Description:
I have now been adopted and now have a lovely new home.

I am very pleased to offer this lovely vintage EASTERN game for adoption. This style of game is commonly referred to as the "soaring sparrow" style game and the style of one bamboo that is most associated with this manufacturer.
I have put this into my WBL (worn but lovable category) it is not a museum quality game but it still has plenty of playing life left in it and the tile color matches nicely - no tiles stand out from each other. I continue to strive to not to break up complete games and hope someone will be able to find this a great new home!
The Eastern manufacturing company started producing games in the 1920's and appears to have made games for a number of different Mah Jong labels. You will see similarities between Eastern games, Piroxloid and even 10 Flowers.
This game is one of their earlier styles from the late 1930's. The game has 2 sequenced bouquets. 4 flowers numbered 1-4 and 4 tiles denoting occupations also numbered 1-4. The game would have originally come with 144 tiles. 8 tiles have been added from another partial Eastern game to bring the tile count to 152 for NMJL (National Mah Jong League) rule play.
The case is sturdy with the usual external scuffs, primarily on the corners, from its years of use. It does still have its original leather handle.
The game has 4 original wooden racks with unusual Bakelite E's in a neat square design. Note the different style of flippy - instead of flipping it has a pressure point part way down the stem and the tokens click in place.
No matter the style of game you play (Chinese or NMJL) this game is ready for play right out of the box !
REMEMBER: Despite my age I have many more years of life left in me ... I may be a little more worn than some games on this website but I know someone will still find me lovable :)