MAH
JONG
MUSEUM
IVORY & BAMBOO -flying crane
Ref #X72
Tiles:
148
Racks:
0
Flowers:
8
Jokers/Blanks:
4
View BONE & BAMBOO games for sale

--

Click thumbnails to enlarge and start slideshow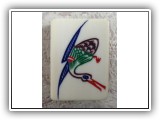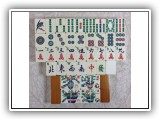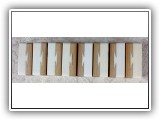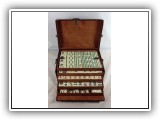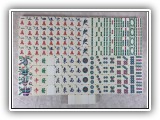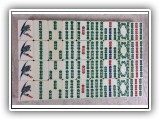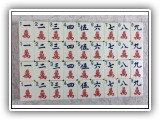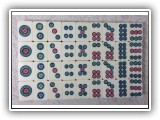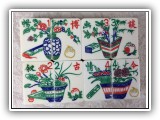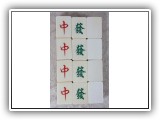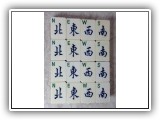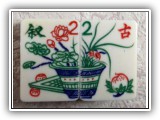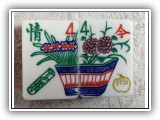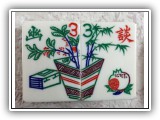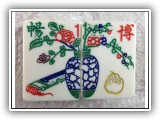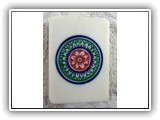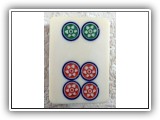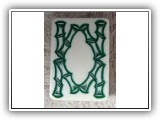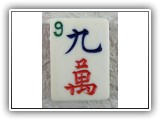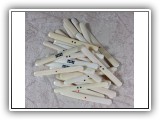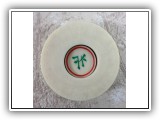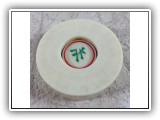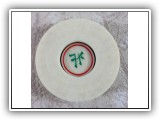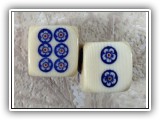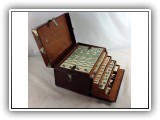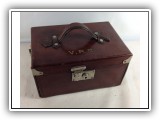 visual lightbox com by VisualLightBox.com v6.0m
Description:
This game is a treasured member of our Personal Mah Jong Museum Collection.
Michael Stanwick describes this game as follows:
A beautifully engraved ivory and bamboo tile set with complete ivory sticks, dice, Directions markers and directions holder. Ornately engraved suit tiles with a flying Crane.
The green sinograms of the first quartet of Flowers/Seasons - photo #9 - read, from #1 to #4, chang [cheerfully, happy], xu [ to chat, to speak], you [deep and remote, secluded, quiet, tranquil, serene], qing [ feelings, affection, sentiment] = "chang xu you qing" = "chat cheerfully about one's own feelings". The plant flowers are peony? [riches/wealth, distinction/credit], lotus flower+bud+leaf [complete union], wild apple? [the hall of a house], narcissus [married couple] = "may your marriage be a complete union and your house stand in riches and credit". The objects beside the containers are a lute [jin], chess [game [qi], book [shu] and painting [hua] = the Four Arts of the Scholar. The red sinograms of the second quartet are, top to bottom, bo [to have , to get], gu [past, ancient time], tan [to discuss, to speak], jin [present, today] = "bo gu tan jin" = "have an extensive discussion of the past and present". The plants are plum [li], orchid [lan], bamboo [zhu] and chrysanthemum [ju] = the four noble plants. The fruit are pear, li, [long life], peach, tao, [riches], pomegranate, shi-liu, [many children] and apple?, ping-guo, [peace] = "may you have a peaceful long life with riches and many children". The two phrases from the sinograms from each quartet are very old expressions. When combined they mght say "discuss about the past and present, enthusiastically tell one's own feelings".