ROYAL - soaring sparow - wbl
Ref #147
Tiles:
152
Racks:
4
Flowers:
8
Jokers:
8
Other ROYAL games for sale

--

Click thumbnails to enlarge and start slideshow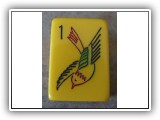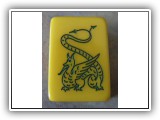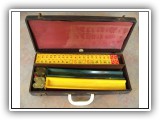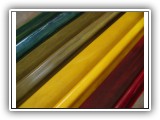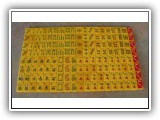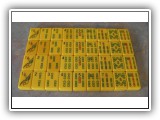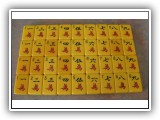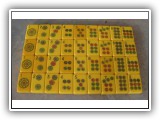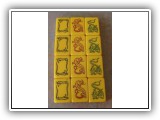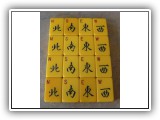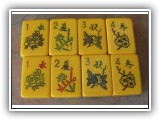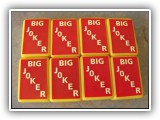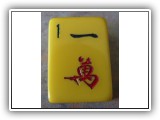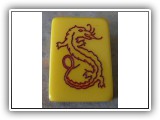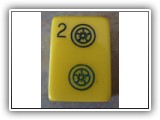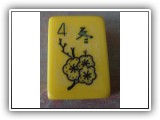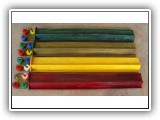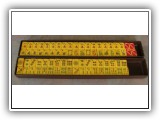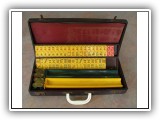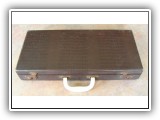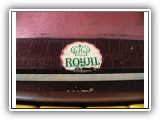 visual lightbox com by VisualLightBox.com v6.0m
Description:
I have been adopted and now have a lovely new home!

Royal games (not to be confused with Royal Depth Control or Royal Crisloid) have two easily recognizable designs of one bamboo. Their perching pheasant style (only found in this manufacturer's games) and their own rendition of a soaring sparrow.
This game is the lesser seen soaring sparrow style from the late 1940's.
The game has 152 tiles making it ready for NMJL (National Mah Jong League) rules and has 8 natural flowers, 2 bouquets numbered 1-4. In addition 8 tiles have been added from a partial Royal game and stickered to be used as jokers.
I like the style of the dragons in this game - unlike some games the red and green dragons actually look like real dragons. In fact the red dragon is breathing fire. Note that the white dragons are two snakes facing each other in a square.
The racks are a gorgeous swirled Bakelite in burgundy, forest green, lemon and beige with complimenting butterscotch Bakelite E's. The case is an original Royal case (the manufacturer's label is still in view). The case is in good shape for its age and the white Bakelite handle is strong and secure. Tokens are included with the game. Please note there are two broken flippies on the rack ends.
Looking for a game to play with right out of the box - perhaps you would like to adopt me ?
REMEMBER: Despite my age I have many more years of life left in me ... I may be a little more worn than some games on this website but I know someone will still find me lovable :)